What Is a Pillar Page?
In effect, a pillar page is a hub or basis on which the cluster pages are built. It provides a comprehensive overview of a topic but leaves room for more detailed coverage of the topic in the cluster pages, which typically focus on a particular aspect of the topic, often a keyword.
For example, a pillar content page on SEO might briefly touch on technical SEO and then link to a cluster page that goes far more in-depth on the topic.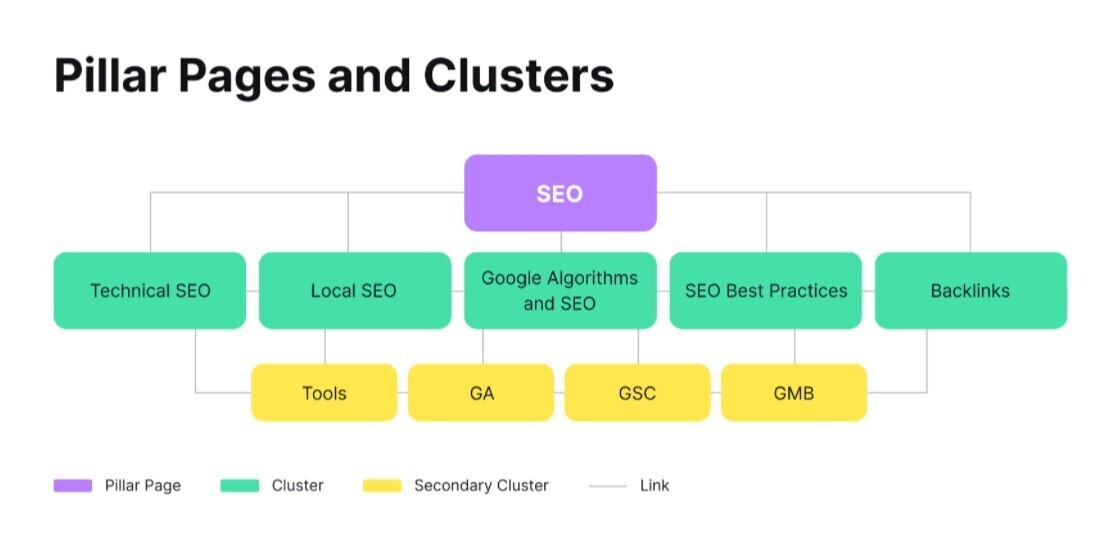 Pillar pages are often longer than typical blog posts (usually 2,000 words or more) because they touch on all parts of a topic. Pillar and cluster pages link back to each other, but if the pillar page design does its job right, it becomes an authoritative source that attracts many external links.
The Benefits of Pillar and Cluster Pages Include: 
Increased engagement: Well-organized content makes it very user-friendly for viewers, driving up engagement. 

Longer session durations: Because the pillar-cluster pages are interlinked, this arrangement tends to keep visitors on the site longer, driving up engagement and page views.

Provide better signals to Google: Because pillar and cluster page groupings are so well organized, it is easy for Google to determine their subject matter and rank them. Badly organized webpages tend to be poorly ranked by Google, so content organized by topic pillars and clusters tends to get rewarded with higher rankings.
Comprehensive pillar pages are one of the most effective ways to create content that appeals to search engine algorithms and targets audiences with authoritative information.
Next, we will explain some of the main types of content pillar pages. Keep in mind that the divisions between these categories are not absolute, so some pillar pages might have elements of each.
1. The "Guide" Pillar Page
As its name suggests, a "guide" pillar page strives to be the ultimate authority on a subject. It could be a 101 guide for beginners or something more sophisticated aimed at a specific industry segment. A guide or an "ultimate guide" serves to establish your authority in a field or subject matter, builds your brand, and helps establish trust with a particular audience.
The guide pillar page gives a comprehensive overview of a topic that makes it an authoritative destination for those interested in the subject. It also links to related cluster pages that expand knowledge on particular aspects of the topic, often related to a specific keyword.
A timely and well-conceived guide pillar page can garner a lot of attention, boost website traffic, attract backlinks, and nurture an audience who can be converted into subscribers or paying customers.
Some good "guide" pillar page examples include:
The Ultimate Guide to Remote Meetings in 2020

A strong topic for pillar pages tends to be evergreen, and one example is remote work. Slack decided to create a useful guide for its users with " The Ultimate Guide to Remote Meetings." 
There is a lot on this page that makes it a great pillar, particularly when understanding what the reader can expect and the navigation. At the top of the page, there is a note about how long it will take the reader to get through the content and a few bullets that emphasize best practices for remote meetings. 
There are also a lot of interactive elements throughout the piece to help keep the reader engaged. For instance, the floating navigation bar allows the reader to quickly jump from one section to the next. The page includes a video that shows a remote meeting in action.
 Slack's internal linking strategy for the pillar page directs readers to topic clusters that include more tips for remote work and specific benefits to using Slack. 
Brand Awareness: Nearly Everything You Need to Know
Typeform is a Barcelona-based online software as a service (SaaS) company specializing in online form building and online surveys. It also has a series of well-designed, visually attractive pillar pages devoted to brand awareness, like this one. 
A navigation menu off to the side makes it easy to navigate the long scrolling page of information on brand awareness basics — tracking your brand awareness, kick-starting your brand awareness, and measuring your brand awareness — and offers some parting words of advice.
The page has many links to related resources, including external and more internal links toward the end of the page.
Typeform's internal linking strategy for this pillar page links to other resources in their blog and pages with their service offerings — specifically templates that potential customers can use. 
2. The "What Is" Pillar Page
A very typical query made by people is, "What is …" They hear about something interesting, controversial, or timely and want to learn more.
"What is programmatic advertising?"
"What is herd immunity?"
"What is Kubernetes?"
To tap into this desire to learn more, a pillar page can serve as a definitive examination of a subject — a highly useful stand-alone resource that links to related cluster pages and develops aspects of the subject in greater detail. In many ways, it is authoritative, like a guide page.
If you develop a page that matches a widespread interest ("I have heard something about this a couple of times and want to learn more," or "I have always wanted to know more about this") and build a case for its importance, you have created a great way to drive organic traffic to your site. The traffic becomes a top-of-the-funnel flow that eventually can be won over as valued customers with the right conversion strategy.
Here are a couple of examples of "what is" pillar pages that do their jobs:
What Is Wine Exactly?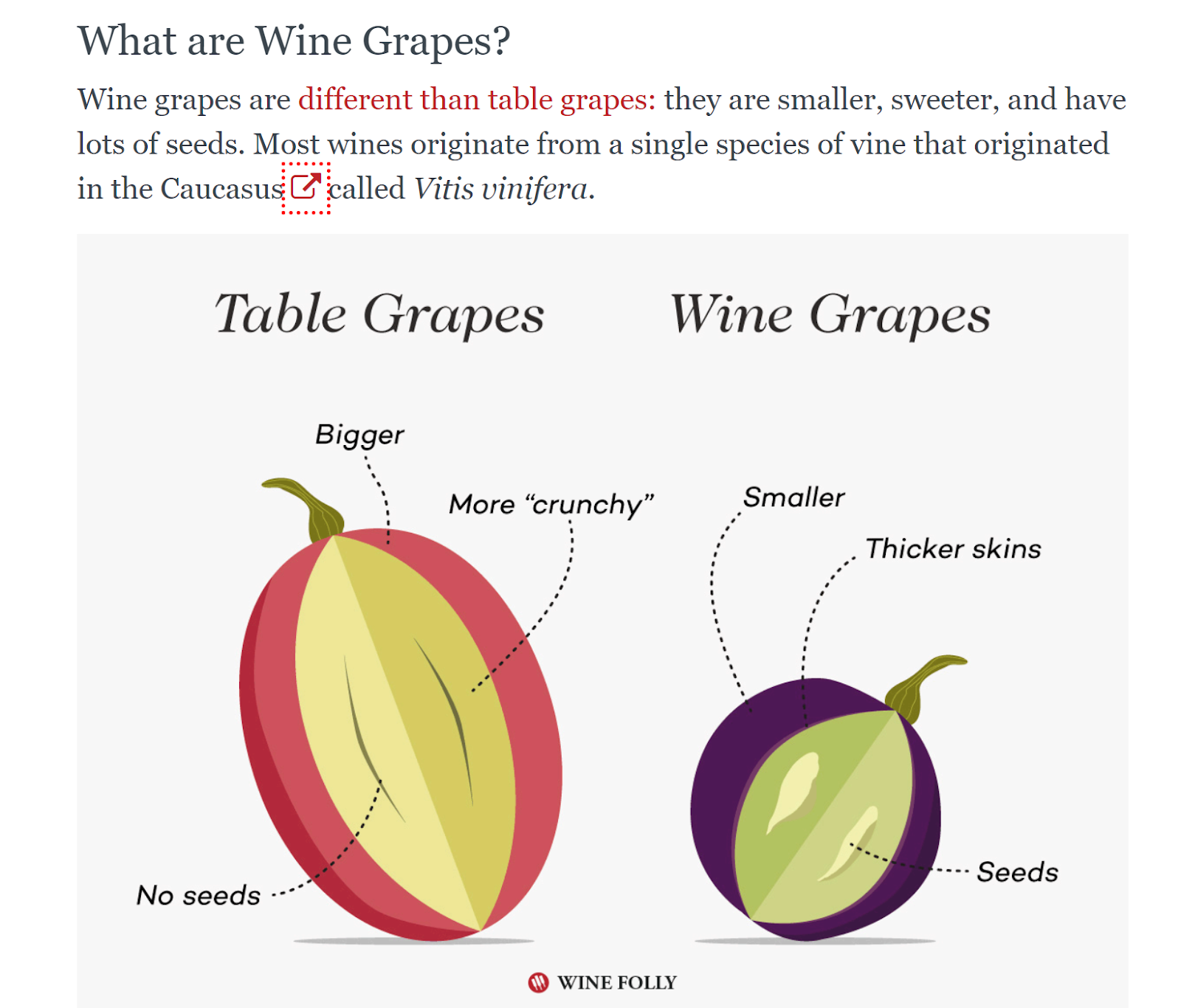 You may consider following the example of oenophile friends and develop an appreciation for fine wines. But you don't know much, so you do a query of "What is winemaking?" or "What is wine?" and come across this pillar page, high or at the top of the search results. 
The page is served up with style by Wine Folly, a "content site devoted to wine knowledge and appreciation." ("The goal is for more people to view wine, not just as an adult beverage, but as a way to explore the world and ourselves.")
The page offers a "deep dive" into all things wine, covering what it is, the origin of the term "vintage," information on single-varietal wines, blends, and much more. The well-organized page satisfies the demanding requirements of the Google algorithm and organizes information that is accessible and consumed with appreciation by visitors. Of course, there are links to equally well-presented cluster pages on sulfites in wine, how to do a wine tasting, a wine sweetness chart, and more.
Wine Folly takes a unique approach to their internal linking strategy for this pillar page by creating a stand-alone box at the top that includes links to other queries that readers might be searching for, which makes them great topic clusters for this pillar.
Artificial Intelligence: What Is Artificial Intelligence? How Does AI Work?
At more than 2,500 words, this meaty pillar page is offered by a tech job site. Built In is dedicated to answering, "What is artificial intelligence?" and "How does AI work?" It would be of interest to someone vaguely aware of how AI is changing everything from financial investing to online searching and has decided to educate themselves from the ground up.
The page answers the above questions and offers sections on narrow artificial intelligence, AI history, machine learning, and deep learning. It is easy to drill down to related pages on AI companies building a smarter future, how AI can revolutionize health care, why machine learning projects fail, cutting-edge AI applications, and other subjects of interest.
Built In's internal linking strategy for this pillar includes direct callouts offering the reader to find out more. These links go directly to other stories within their blog, which are perfect supporting topic clusters to keep the reader engaged. 
3. The "How-To" Pillar Page
Unlike a "what is" pillar page that tells you what something is, a "how-to" content pillar page tells you how it is done. You can help your intended market solve problems or find ways to improve the processes needed in their job functions.
If you have a solution or tool to fix a problem, it can be worked in discretely and embraced if you have successfully addressed your customers' pain points and offer a lot of good, useful information. Well-illustrated, step-by-step tutorials are often used in these kinds of pillar pages.
Some "how-to" pillar pages that show how it is done include:
How to Start a WordPress Blog in 2020 [The Complete Guide]
If you have any questions about starting your own WordPress blog, this pillar page created by IsItWP, a WordPress technology lookup tool, is a good place to start. With a handy navigation menu divided into 12 chapters, the massive pillar page takes you through the process step by step. And if you don't have discernible tech skills, no worry "because starting a blog is way easier than you think."
The technical how-to guide also has sections on essential plug-ins and tutorials, promoting your blog, doing WordPress SEO, and even monetizing your blog. You can drill down further to cluster pages on how to build a website from scratch and how to create an e-commerce storefront, as well as a variety of useful external resources.
This pillar page takes many approaches to internal linking. An easy way to do this with a how-to guide includes an FAQ section at the bottom like IsItWP did. Many of the answers in this section link directly to other supporting topic clusters within their blog. 
The Ultimate Guide to Easily Make Instructional Videos
Since a lot of how-to content is provided in instructional videos, it makes sense that there is a how-to guide to making how-to videos (of course, this could also fit in the "guide" pillar page section above). 
Created by Michigan-based TechSmith — a developer of screen capture software and solutions — this how-to content pillar page offers information on the different types of instructional videos (from micro-videos to screencast videos), information on common mistakes people make when creating videos, how to make instructional videos with screen recordings, how to create training videos with a camera, and the true cost of making training videos. 
If you don't have time to read the entire guide online, you can also download a PDF version. Of course, links abound to related cluster pages, including video lighting, making YouTube videos, and green screens. 
A valuable internal linking strategy that TechSmith uses here is to link to studies they have conducted that support the popularity of video content. These supporting cluster topics are that much more authoritative since they include original research. 
Create Stronger Content Pillar Pages
Content marketing is one of the best ways to connect with your target audience, establish your company's authority and brand, and build the kind of trust that lets you lead people down the sales funnel to become converted customers.
One of the most effective ways to organize your content to get results is to embrace the pillar-cluster model. Some of the best practices for pillar content creation include defining the content's goals and what you are trying to accomplish, deciding on the planned returns, and determining what you want to rank for. 
How to Find Topic and Content Ideas for Pillar Pages
If you are not sure what should be included in pillar pages and which cluster pages you should include, check out the Topic Research Tool! You simply enter a keyword and the tool provides you with related subtopics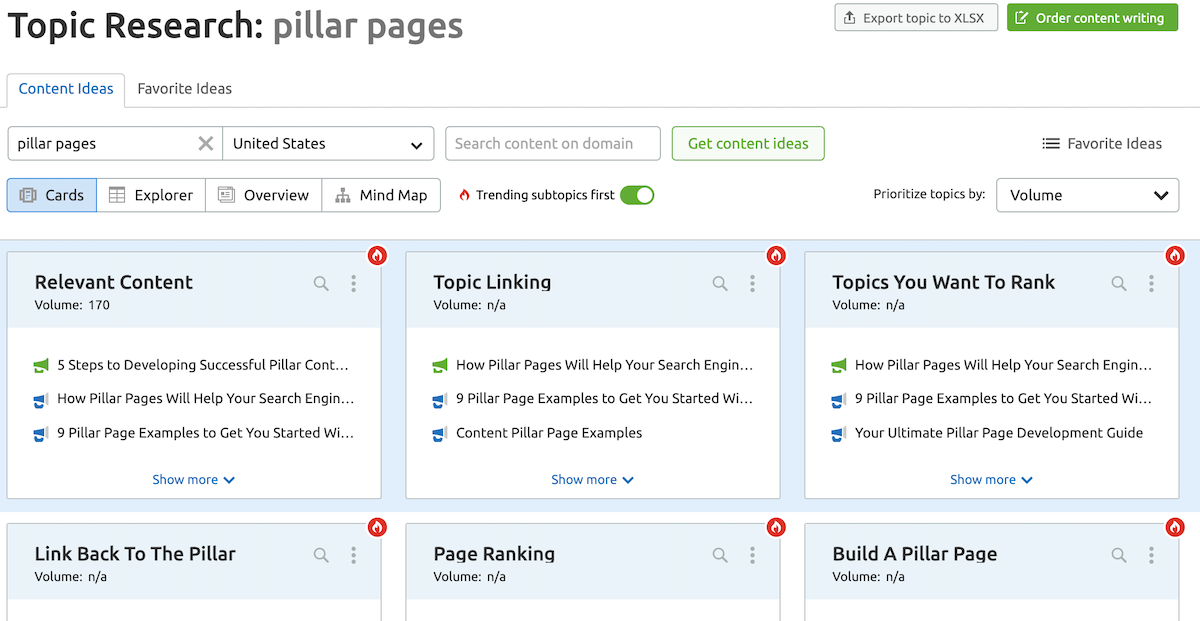 Next: Click on one of the "trending" cards to see recent headlines (great for competitive research) and asl see related questions people are asking in real-time. Both of these forms of information will help you create a detailed, timely, and useful pillar page. And, you will have ideas for cluster pages.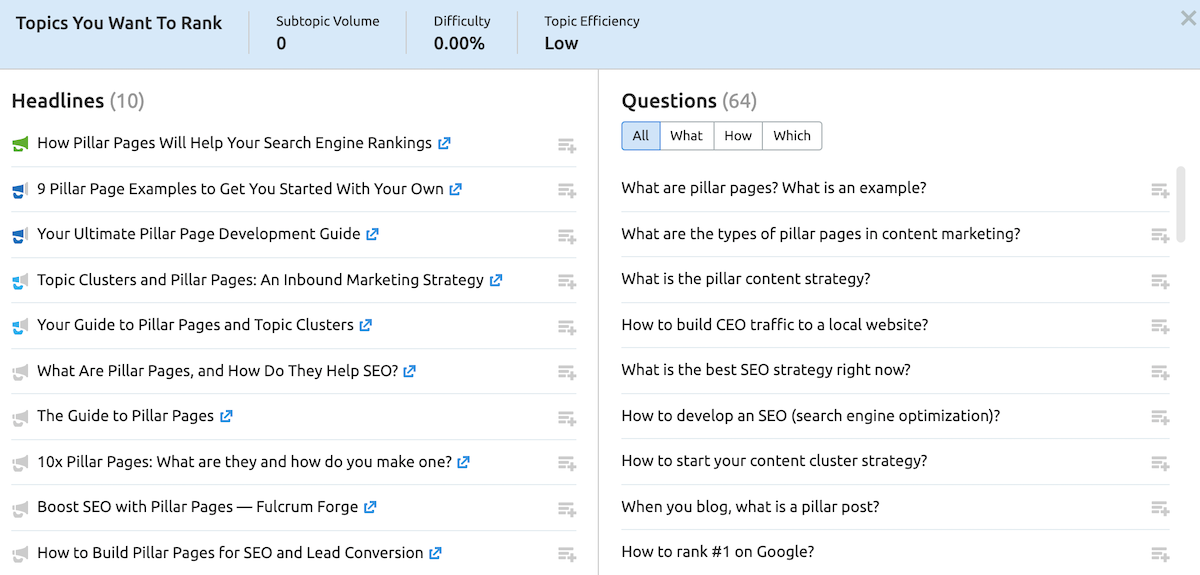 Ready To Start Implementing Pillar Pages?
The name is not incidental—pillar pages can be the "pillar" of the rest of your content. The ability to provide an intuitive user experience and hit all the right notes for SEO makes them an indispensable element of site structure. Consider embedding pillar pages in your content ecosystem and see them act as a solid bridge for your target audience.