Did you just launch a new business, blog, or need to come up with a website name for a new brand or landing page? Figuring out a domain name can be difficult and it's one of the most important decisions if you aren't planning on building a Google-like brand where you build the brand equity of the name. (More about that — as one of the five ways to generate a domain name idea — towards the end of this post.)
As a domain investor and the founder of an internet holding company where I build locally focused and niche internet brands and use SEO and Google Adwords to promote these websites, these are the top five ways I have figured out how to come up with domain name ideas. 
Deleted Domains
I use to use GoDaddy to buy domains back in 2006-2009 but quickly switched to Name.com because of their bulk domain keyword lookup, expired domains, and deleting domains tools. Also, it was cleaner, quicker, and easier to buy domains from Name.com vs. GoDaddy and going through a ton of unneeded upsell pages when all I wanted was to buy domains.
One way to use their deleted domains is to go to their deleted domains section (bottom left footer of their website) and select the following parameters:
TLD — switch to .com (unless you don't care if it's a .net, .org, etc.). I always go with .com
Change display results to 250 
Leave Drop date to all, max length to 0 (you can switch that to 10 if you want a domain with 10 characters or less and so on), and leave the defaults for all on 1 week, 30 days, and 60 days
Select "no hyphens", "no numbers"
In the "search for keywords" area this is where I like to use a niche keyword "socialmedia" or local keyword "phoenix" to target geographic and niche domains that are being deleted

Deleted domains tool on name.com
Click "search" and you should see something like this (hundreds of keyword focused domains ready to register):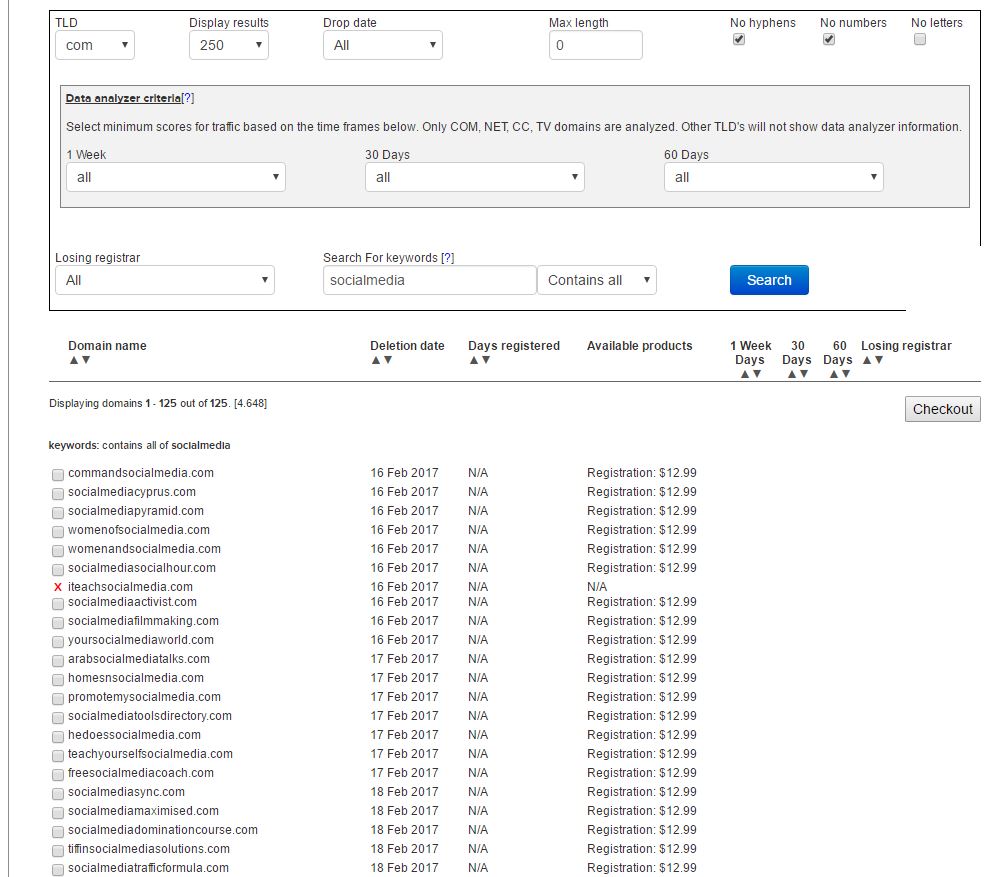 deleted domains tool name.com
Expired Domains
Using the same concept with a few different filters on Name.com's Expiring Domains tool, you can find domains that have just expired or about to expire. Again, I would sort by .com, exclude hyphens, exclude numbers, and enter keyword relevant or geo-targeting your website or new domain name is going to be about. 
Another great tool for buying expiring domains especially if you care about the metrics of the expiring site is Moonsy.com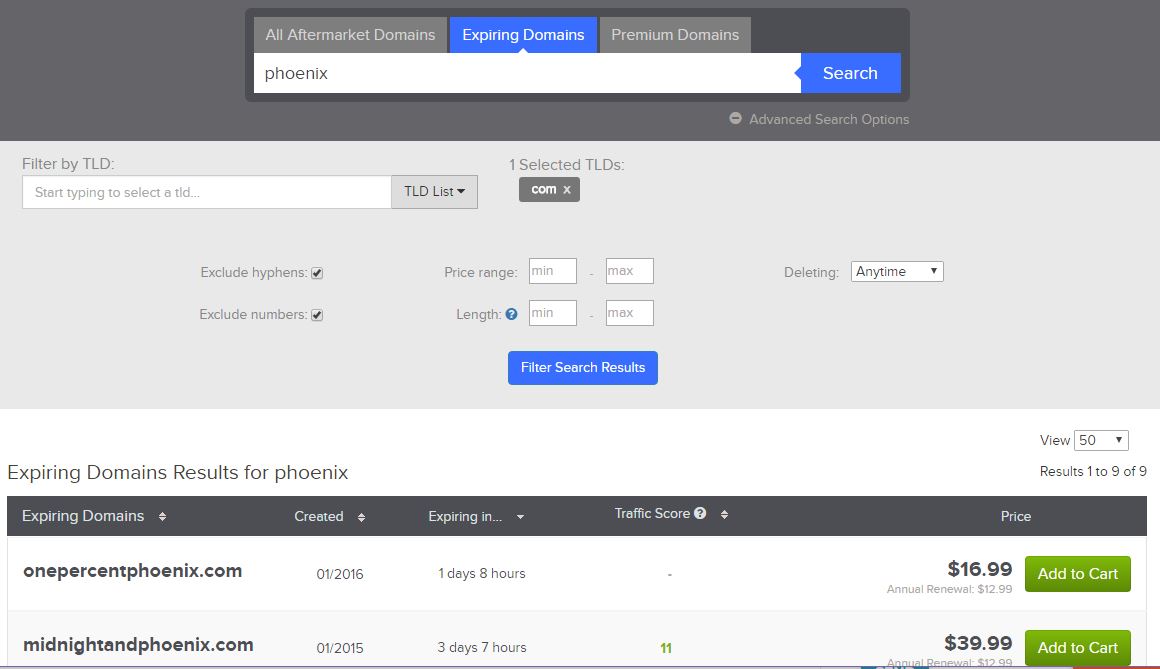 expiring domain names tool on name.com
What You Are Plus +
Most of the time, the exact keyword is taken for what you would use to describe your business or the purpose of the website. For example big brands like "hotels.com" for hotels booking website, "cars.com" for buying and selling cars are all going to be taken by now in 2017. 
However, if you think about the core focus or purpose of the website and add an adjective or some other type of branding keyword to it you can start to find domains that are brandable and help you get a head start on what your domain or website is about.
An example of this is a new site I just launched recently that I wanted to be an Arizona focused local news site.
When I was thinking of the domain name, I wanted something short, focused on what the site is about, and a "+" keyword that would help give the site its own brand identity. 
Another thing you have to think about with any of these five strategies to come up with website domain name ideas is — you have to make sure social media channels or handles for at least Twitter, Facebook, and Instagram are available. 
The site I came up with was AZCharged.com. This follows the "What you are plus domain name model" I use for creating internet brands for new website ideas.
SEMrush Domain Competitor Keyword Ideas
If you are reading this and love SEMrush as much as I do as a sales and competitor research tool, you already know you can enter any website (think competitors) and see what that website or domain name has traction for or ranks for on Google. 
You can export this data into a spreadsheet, use find and replace to take out the spaces of the those keywords to make them into website name ideas by search volume, and actually make a site that has keyword traction your competitor ranks for and has search volume already.
You can then copy and paste those keyword domain name ideas into a "bulk search" domain tool (again another reason I use name.com) and see what keyword domains are available for purchase.
Short, Simple, Build a Brand
If you look at the top 100 websites on Quantcast, for the most part, they all have something in common. They are short and simple domain names that had nothing to do what the business or website is about — rather, the brands were built over time. They made the keyword or domain name a household name. 
I'm talking about sites like Google, Amazon, Yahoo, Bing, Twitter, Yelp, Ebay, and so on… 
So, if you are going to go with a domain name that means nothing to what you actually do, or what the website is about, make sure it's short, simple, easy to spell and pronounce. This way, it's easier to make it a brand or build brand equity over time.
And don't forget to check at least Facebook, Instagram and Twitter to see if the handle for that domain name is available. It's a mistake that is easily made and forgotten about, and can make it harder to build brand equity with that weird 5-10 letter domain name you come up with. Good Luck!
How did you choose your business domain name?